Katie Weatherston's Biography
: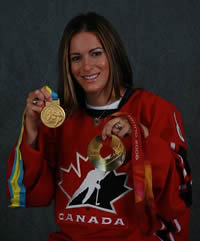 Katie has been involved with hockey for more than 22 years and has experience in coaching, instructing, as well as being a referee.  She started playing hockey at age 5 and played 9-13AA with the boys from ages 8-13.  She then decided to make the transition to girl's hockey where she played 2 years on both the Thunder Bay AA Queens and the Thunder Bay Intermediate A Comets respectfully in the TBWHA.  She represented Team Ontario Blue at the U-18 National Championships in 2000.  
Katie majored in psychology and received her elementary teaching certification at Dartmouth College which is located in Hanover, New Hampshire.  In her first 2 seasons at Dartmouth College she amassed a total of 95 points in 67 games (52g, 43ass.). Her point total through her first two seasons is second all time only to Gretchen Ulion (147).
Weatherston's Career Stats at Dartmouth College:
| | | | | | |
| --- | --- | --- | --- | --- | --- |
| Season | GP | G | A | Pts | PIM |
| 2002-03 | 35 | 23 | 24 | 47 | 14 |
| 2003-04 | 32 | 29 | 19 | 48 | 22 |
| 2004-05 | 31 | 38 | 15 | 53 | 22 |
| 2006-07 | 26 | 23 | 14 | 37 | 20 |
| Totals | 124 | 113 | 72 | 185 | 78 |
As a freshman,  Katie put together one of the best freshman seasons in Big Green history.  She finished second on the team in scoring with 47 points, tied the team lead with 24 assists and placed second with 23 goals.  She was named to the All-Ivy League second team, to the ECAC Hockey League All-Rookie team, and was an All-ECAC Hockey League honorable mention. She led the team with six game winning goals and notched her first career hat trick against Colgate on 3/8/03.
In her sophomore year , she was named one of 12 Division I all-stars by the New England Hockey Writers Association, selected to the second team All-Ivy and All-ECAC Hockey League, she was named to the ECAC Hockey League All-Academic Team, twice named ECAC Hockey League Player of the Week, and was named USCHO Division I Offensive Player of the Week on Jan. 27.

In her junior year, she led the team in goals with 38 and finished second on the team in overall points with 53.  She also led the team in power-play goals (15), short handed goals (3) and hat tricks (5).  She had three hat tricks in five games against Minnesota, Union and New Hampshire where she scored all three of the Big Greens goals in the 3-1 win.
As a senior, she missed eight games due to injury.  She was second on the team in goals (23), third in points (37) and first in power play goals (13).  She holds the top spot on Dartmouth's all-time power play goals list.  She Recorded 12 points over four ECACHL playoff games and she had 10 multi-point games.  She netted four goals in Game One of the ECACHL Quarterfinals against Rensselaer and Holds a +18.   She was named the ECACHL tournaments Most Outstanding Player and she was Awarded ECACHL Player of the Week once and USCHO's Offensive Player of the Week once.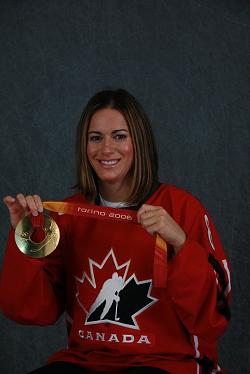 After a standout freshman year, Katie received an invite to a selection camp for Team Canada.   From there, she was selected to play on the U-22 national team for 2 years where she won 2 gold medals at the Air Canada Cup in Germany in 2003 and 2004.

She was then selected to play on the Women's National Team where she won gold in 4 Four Nations Cup tournaments (2004, 2005, 2007, 2008), as well as a gold medal at the 2006 Olympics in Turin, Italy where she had 4 goals and 1 assist.  She scored the game winner in the semi-final victory over Finland.  Katie has played in 2 World Championships. In 2007, she won a gold medal in Winnipeg, Manitoba and in 2008 she won a silver medal in Harbin, China. Katie missed the 2009-10 season and is missing the 2010-11 season due to post-concussion symptoms.  She was unable to compete in the 2010 Olympics, but had the honor of carrying the Olympic Torch and lighting the community cauldron in her hometown of Thunder Bay, Ontario on Jan. 3, 2010. 

Although, Katie has been injured, she remains an active role model in the community. Katie resides in Ottawa where she is an assistant coach with the Nepean JR AA Wildcats girl's team that plays in the PWHL. She also is a motivational speaker across canada, she runs team hockey clinics, and is a real estate agent with Royal Lepage Performance Realty.  Katie is very passionate about hockey and she truly enjoys working with children and inspiring others.
Personal
Katherine Marie Weatherston was born on April 6, 1983.  She is the daughter of David and Anna Weatherston and has 2 brothers, Robert and Michael.  She is fluent in Italian and enjoys playing hockey, baseball/softball, golf, snowboarding, and tennis.  She also enjoys travelling, teaching, coaching, and spending time at her family cottage in the summer.

She attended St. Patrick High School from 1997 to 2002 where she lettered for three years in five sports and was named her high school's athlete of the year four times.  She has also worn the team Canada jersey elsewhere. She was selected to the U-19 Canadian Soccer Team player pool in 2000 and 2001, and she helped Team Ontario win a gold medal at the 2001 Canada Games in London, ON and at the Nationals in 2000 in Winnipeg , MAN. 
Katie attended Dartmouth College (an IVY League Institution) and majored in Psychology and is a certified elementary teacher in the state of New Hampshire, as well as in Ontario.